ADAPTIT – TEAMVIEWER EVENT: "AUGMENTED REALITY: THE NEW ERA IN DIGITAL TRANSFORMATION OF FRONTLINE WORKFORCE"
ADAPTIT, TeamViewer' s exclusive Frontline Silver Partner for Greece and Cyprus and TeamViewer hosted with great success yesterday in Athens the first physical event after a long time under the title "Augmented Reality: The new era in Digital Transformation of Frontline Workforce".
TeamViewer, as a world-leading technology company with ongoing innovations in Augmented Reality and ADAPTIT as System Integrator, presented to customers, partners and media the dynamics of AR and how these can contribute to significant savings in time and resources for an Enterprise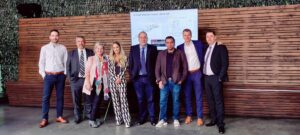 The event was honored by the presence of two Keynote Speakers on behalf of TeamViewer, Mr. Sudhanshu Kapoor, Vice President Sales AR/MR EMEA and Mr. Konrad Rudzinski, Channel Account Manager, who provided the guests with the opportunity to learn why every Enterprise should have an Augmented Reality Strategy and shared Best Practices on how Enterprises can leverage AR seamlessly into their ecosystem.
ADAPTIT presented the benefits of monitoring & maintenance, asset management and AR solutions unification into one platform and shared best-practices for managing all type of equipment, assets and services, as a "face" for enterprise organization to end users and a hub for workflow and integration.
All guests had the chance to enjoy a hands-on demonstration of latest high-tech AR smart glasses, as well as a fruitful lunch with a lot of discussions of potential collaborations.